While the Strip is typically the top destination for tourists in Las Vegas, you'll want to spend at least one day in the area known as Downtown.
Located in the official city of Las Vegas, Downtown is a little looser and low key. It's also synonymous with vintage Sin City style and history. So check out some of the best attractions in this exciting can't-miss part of Las Vegas.
THE FREMONT STREET EXPERIENCE
Downtown is most famous for the Fremont Street Experience. The five-block stretch is closed to traffic and now operates as a pedestrian mall with shops, bars, restaurants, and casinos. Most of it sits underneath the massive Viva Vision canopy, which displays music and video shows on high-definition screens. Make a point to snap a photo with "Vegas Vic", the iconic neon cowboy.
DOWNTOWN CONTAINER PARK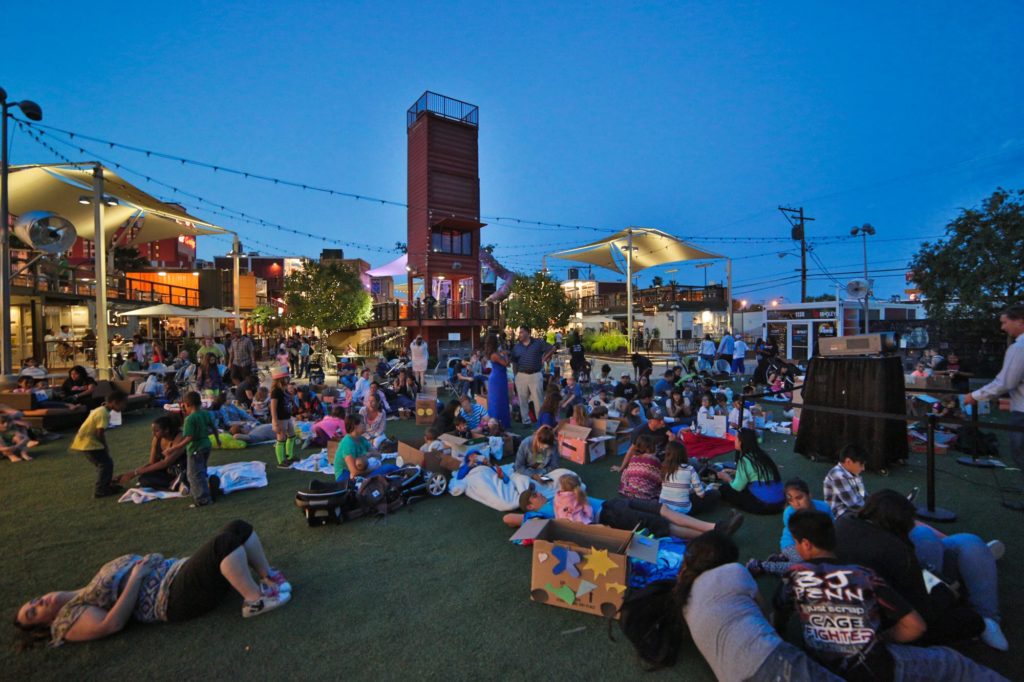 This is one Downtown attraction everyone always wants to check out. The collection of shops, bars, and restaurants is built from old cargo shipping containers. It's a great place to buy souvenirs, grab a cocktail at Oak & Ivy or eat one of the best hotdogs in Vegas at Cheffini's. At the center of it all is a playground and treehouse to keep youngsters busy while the adults focus on shopping. The giant praying mantis out front, which shoots fire, is a sure sign you've arrived.
EXPLORE VEGAS HISTORY AT A MUSEUM
Learn about the culture and history of Las Vegas at a wide range of museums. The Neon Museum is an outdoor collection of vintage marquees preserved, restored and maintained in optimum condition. It's best to visit at night when the sun is down and the lights are on. The Mob Museum is dedicated to Las Vegas' long history of organized crime. It's in the old courthouse where mobsters were once prosecuted and recently added a working Prohibition-style speakeasy and distillery in the basement. The newest museum is Cannabition, an art installation dedicated to marijuana, which is now legal in Nevada. You can't smoke here, but you can take plenty of selfies among the photogenic exhibits.
SLOTZILLA
Take flight with the only Downtown zipline. Slotzilla shoots riders out of a towering replica of a slot machine, sending them speeding across the Fremont Street Experience and over crowds of tourists below. Choose to fly either vertical or horizontal like Superman. At 40 miles per hour, it's definitely one of the best ziplines in all of Las Vegas.
FREMONT EAST
On the east side of Las Vegas Boulevard is Fremont East, a small collection of bars and restaurants that are geared a little more to locals than tourists. Highlights include Beauty Bar (designed after a vintage beauty parlor with an outdoor patio for concerts), the Griffin (which stays busy with fire pits and a nice beer list) and the Downtown Cocktail Room (which helped set the standard for the craft cocktail revival in Las Vegas). Eureka has great burgers, cocktails and a patio for people watching, while Therapy serves modern American food in a modern gastropub setting. For some of the most player-friendly gambling in town, head to the casino at the historic El Cortez.
PAWN PLAZA
725 LAS VEGAS BLVD S LAS VEGAS
One of the busiest tourist destinations in Vegas is the Gold & Silver Pawn Shop, featured on the History Channel's Pawn Stars. The lines are long out front, but fans love to see where the reality show is filmed — and maybe even buy a few things for themselves. It's next door to Pawn Plaza, a two-story retail complex with awesome East Coast pizza from Good Pie and barbecue from Rick's Rollin' Smoke.
SMITH CENTER
361 SYMPHONY PARK AVENUE, LAS VEGAS
The Smith Center is a magnificent building where Las Vegas goes to celebrate the performing arts. Reynolds Hall hosts touring Broadway shows, the Philharmonic, and the Nevada Ballet. There's also Myron's Cabaret for small concerts and jazz acts, and the Troesh Studio Theater for minimalist black box productions.