Las Vegas is a great place for families to have the vacation of a lifetime. Las Vegas is not just about gambling and partying, Las Vegas has so much more to offer than that! In this Las Vegas-family vacation itinerary, we will cover everything in Las Vegas, what to do when you're there, and how you can make the most out of your during your Las Vegas family vacation. Let the show begin!
Las Vegas Family Vacation - Day 1
Arrive in Las Vegas & Check into Hotel (Drop off bags)
Give yourself a little stretch because you're officially in the dazzling city! Depending on when you arrive in Vegas, your hotel may still not be ready – that's okay! Most hotels – especially in Vegas – will hold onto your bags while you venture around town. It is customary to tip the Belstaff or front desk person a few dollars per bag. This applies when you drop off luggage and also when you pick up your belongings. It beats lugging around all your bags on Day 1 of your Las Vegas Family Vacation.
Shark Reef Aquarium Mandalay Bay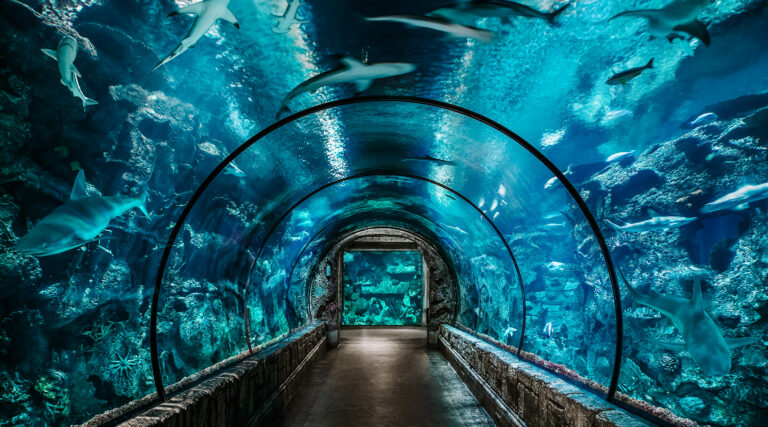 This attraction has been featured in "Top things in Vegas for under $30 post," and for many good reasons! Not only is this a cool, memorable attraction that is affordable, but it is also one of the largest aquariums in North America. The main tank alone holds more than 1 million gallons of water. Your family will be immersed in the aquatic world with interactive exhibits that teach you about the world's oceans and all of their inhabitants!
The aquarium's exhibits are designed to give guests an up-close view of these incredible animals as they swim by or go about their daily lives. The kids love the interactive areas where they can touch stingrays, feed sharks, and watch them eat! Adults enjoy watching the sea life through windows that showcase underwater scenes day or night. There are many educational opportunities for visitors who want to learn more about ocean conservation efforts worldwide.
The prices for the aquarium are very reasonable considering the experiences you get from this attraction! The Shark Reef Aquarium is Open | Daily, 10 am to 6 pm; the last admission is 5 pm. Children 4 and under are free and do not require a ticket. A child admission ticket price is only $24, and an adult admission ticket price is only $29. This is an incredible immerse experience for a stellar price! 
Where: 3950 S Las Vegas Blvd, Las Vegas, NV 89119 | Who: (702)-632-4555
The Big Apple Coaster Roller Coaster & Arcade
After an enjoyable visit to Shark Reef Aquarium at Mandalay Bay, it's time to take on the strip! You will head 1 mile North on the strip to New York, New York Hotel & Casino for the next activity. It's a short 25-minute walk or about a $9 Lyft ride depending on how many are in your party.
The Big Apple Coaster in Las Vegas is a two-minute and thirty-second ride that will take you up and down and around the track at speeds of over fifty miles per hour. The coaster has been voted one of the top ten most thrilling coasters by USA Today, so if you're looking for something to get your heart pumping, then this is it! It takes you through a simulated ride through New York City, with views of Central Park and other well-known landmarks. The coaster even goes upside down! You can't miss this exciting experience.
This attraction is on the strip in Las Vegas for ONLY $19! There is also an arcade portion to the attraction. For $30, you can get a Nighttime Coaster Ride and a $15 Arcade Credit. Take part in all the excitement on this riveting ride!
Where: 3790 Las Vegas Blvd S, Las Vegas, NV 89109 | Who: (702)-740-6616
Lunch at New York, New York 
By this point, your family will most likely be hungry – I would be too! Here are two great options for lunch on property! There are a few family-friendly options at New York, New York Hotel & Casino that won't break the bank but aren't garbage either.
Let's start with my personal favorite, Shake Shack. Let me say that the SmokeShack is amazing! That is my personal go-to burger here.  Match your burger with one of their delicious milkshakes, and you'll be taken to another dimension – it's a great way to start the day! 
You know what they say about New York… when you go, you have to get PIZZA! If your family is in the mood for a cheesy moment then go over to New York Pizzeria. Oven-baked to perfection, these are authentic large slices. They also offer garlic knots and salads if that's more your vibe.
Hershey's Chocolate World
Hope you saved room for dessert! Also located on New York, New York property, Hershey's Chocolate World is 13,000 square feet of goodies. Pick from one of eight hundred different Hershey candies at this West Coast Flagship store location!
Stop by the store to customize your very own chocolate bars, star in a Reese's Peanut Butter Cup TV ad, choose from a wide selection of tasty treats, and shop for your favorite Hershey's gifts. It is sure to be a unique and unforgettable shopping experience!
Eiffel Tower at Paris Las Vegas
After a fulfilling lunch, you're off to your next iconic Las Vegas attraction! You're headed 0.8 miles North on the strip. This is about a 17 min walk or an $11 Lyft ride (depending on the number of people in your party). Be sure to bring your camera as there are great picture locations at the very top of the Eiffel tower and around the grounds!
At 541 feet tall, the Eiffel Tower is a half-scale replica of its Parisian inspiration and offers amazing views. Located 46 stories up on the Las Vegas Strip, this iconic attraction is an excellent way to escape from all that chaos below. Every 30 minutes, the enhanced lighting at Paris Las Vegas will offer a free and recurring light show that was inspired by Eiffel Tower's illuminations. 
The price for admission for a child (age 4-12) is $19.50, and for adult admission, it is only $24.50. Experience Paris – no passport required!
Where: 3655 S Las Vegas Blvd, Las Vegas, NV 89109 | Who: (702)-948-6937
No Las Vegas Family Vacation can be complete without one of the many family-friendly shows. Captivate everyone in your family with a collection of bright colors, compelling stories, and memorable entertainment! Here are a few great options to choose from based on your family's interests!
Tournament of Kings is an amazing dinner theater show at Excalibur Hotel and Casino that will keep your whole family entertained. It's filled with comedy and action, and it even includes a medieval feast. For me, this was one of the best parts of the experience because we got to eat delicious food while enjoying an incredible show. If you're looking for something fun and different to do in Las Vegas with your family, see Tournament of Kings during your Las Vegas Family Vacation!
Tickets for the Tournament of Kings start at $40 per person, not including taxes & fees. There is a dinner option for the show, which bumps the price up to around $60 per person, not including taxes & fees.
Where: 3850 S Las Vegas Blvd, Las Vegas, NV 89109 | Who: (702) 597-7600
The award-winning director Hanoch Rosènn returns with EXTRAVAGANZA, bringing along the extravagant and large-scale production known to the legendary Jubilee Theater. An homage to Vegas, be wowed by acrobats, aerialists, and other acts as they entertain in an unforgettable revue.
Be captivated by a spectacular show that has it all, from dancers and skaters to comedians and ventriloquists. Experience the passion and thrills of Vegas as over 30 talented, sexy, and breathtaking artists from across the globe take to the stage.
Tickets for Extravaganza hover around $65 per person.
Where: 3645 S Las Vegas Blvd, Las Vegas, NV 89109 | Who: (877) 603-4390
Xavier Mortimer: The Dream Maker is an exciting and interactive show that will take you on a journey through the world of magic! This family-friendly production was created by one of its most dynamic performers, creating new illusions with originality. From fun comedy routines to captivating stories told live on stage for more than 500 people each night, there's nothing like it in Las Vegas right now.
Tickets start at $39 plus taxes and fees.
Where: 2000 Las Vegas Blvd S, Las Vegas, NV 89104 | Who: (800) 998-6937
After you catch an awe-inspiring performance, it's time to light up the night! This attraction is super lit at night – literally! This is the place to try the night mode on your iPhone. Wonder through a maze of the brightest neon lights in Las Vegas!
The Neon Museum is dedicated to collecting, preserving, and studying iconic Las Vegas signs. The museum campus includes the outdoor exhibition space known as the Boneyard, a visitors' center housed inside an old motel lobby called La Concha Motel, and another open-air gallery which houses additional rescued signs used for weddings or photoshoots.
The Neon Museum is a cool attraction both day and night! The price for admission ranges from $16-$19 for children under 17 years old, and for adults, it ranges from $20-$23 for admission. Military, Seniors, Students, and Veterans all receive discounted ticket rates as well. Light up your trip with this retro attraction! 
Where: 770 Las Vegas Blvd N, Las Vegas, NV 89101 | Who: (702) 387-6366
Dinner to Wrap up the Night (Fremont St Area)
By this point, you're probably starving from all the fun to be had during Day 1! Since the Neon Museum is located near Fremont Street (Old Vegas) here are a few great restaurants in this area that are kid-friendly!
The Downtown Container Park is located on historic Fremont Street in Las Vegas' premier shopping destination for anyone and everyone. The open-air shopping center features the best selection of retail stores, restaurants, and nightlife.
 Kids will love the interactive playground featuring The Treehouse, and adults can relax while enjoying free concerts, movies, and more on the main stage.
Where: 707 E Fremont St, Las Vegas, NV 89101 | Who: (702) 359-9982
Specializing in creative American cuisine and thoughtfully crafted cocktails, Carson Kitchen is a cornerstone of the Downtown Las Vegas dining scene. Carson Kitchen is built on a philosophy of reimagined comfort food prepared with approachable fine-dining ingredients.
Where: 124 S 6th St Suite 100, Las Vegas, NV 89101 | Who: (702) 473-9523
Las Vegas Family Vacation - Day 2
MGM Pool Day – OR – Circus Circus Adventure Dome (You Choose)
MGM Grand has one of the best pools in general in Las Vegas, but especially for kids. There are over 4 pools, 3 whirlpools, and a lazy river spanning 6.5 acres on property!  Now you're probably like, "I'm not staying here, so how can I use the pool?" – and like the good gay travel blogger I am, I say there is a caveat to your question! 
So indeed, you don't have to be staying on property to use the pool. Booking a daybed or a cabana at the pool gives you access to use all the amenities. The going rate for a daybed at the MGM Grand for a party of 4 people is $150-$200 total (not per person), depending on the day. Sounds like a lot upfront? Consider that this can take up most of the day since the pool area is so grand and offers fun for the entire family!
Where: 3799 S Las Vegas Blvd, Las Vegas, NV 89109 | Who: (702) 891-7800 (Concierge)
Circus Circus Adventure Dome 
Go on a journey of discovery with your family at Adventuredome Circus Circus! This fun-filled amusement park has rides for all ages, including thrill-seekers and the little ones. There are also arcade games, concession stands, and carnival food to keep everyone happy. If you're looking for an exciting day out in Las Vegas, make sure to visit this attraction.
Tickets for the Adenturedome are $40 (48 inches or higher) and $20 (48 inches or lower).
Where: 2880 S Las Vegas Blvd, Las Vegas, NV 89109 | Who: (702) 794-3939
Now, of course, where you eat lunch is determined by which of the two choices you decide to make. MGM has great pool service food, and Circus Circus has many restaurants on property to choose from.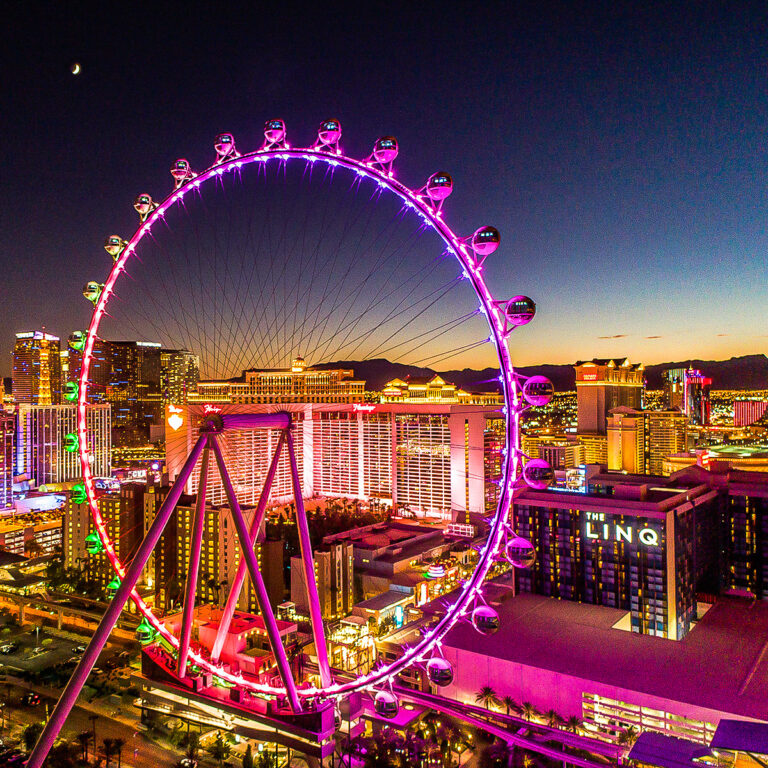 Located in between MGM Grand and Circus Circus is the pinnacle of Las Vegas, The High Roller. Walking from MGM Grand or Circus Circus, you're looking at 35-40 min and about $9-$15 for a Lyft, which takes about 15 minutes.
Celebrate the views from a new height when you take in all of Vegas at 550 feet above the Strip in The High Roller. Owned and operated by Caesars Entertainment, it opened to the public on March 31, 2014. It is the largest observation wheel in North America! This ride takes 30 minutes to complete one revolution and features 28 spacious cabins to accommodate guests.
The part you've all been waiting for -the price! For The High Roller being the biggest observation wheel in North America, you would expect a price to follow such a title, but you're wrong. Tickets for The High Roller differ in price from day to night, and they offer a few different packages for adults. The price for a day ticket for a child (ages 4-12) starts at $17.50, and for an adult ticket, it starts at only $34.75. The good news is that this attraction is great for families because of how inexpensive it is for children to ride. Take to the skies with the ultimate scenic view of the dazzling city!
Where: 3545 S Las Vegas Blvd, Las Vegas, NV 89109 | Who: (702)-322-0593
If you're looking for a thrilling new activity to do with your family or significant other, we highly recommend checking out the fly LINQ zipline in Las Vegas. It offers breathtaking views of the city and is fun for people of all ages. Plus, it's available during all hours of day and night (including holidays) so that no matter what time you visit Sin City, you'll be able to experience this unique adventure!
Get ready for an adrenaline rush like no other. Fly LINQ, the only zipline experience in Las Vegas that takes you 1,121 feet down at speeds up to 35 miles per hour! Riders launch from a 12-story tower and fly above the LINQ Promenade before swooping into the High Roller Observation Wheel on this epic adventure.
Take deals to new heights in Las Vegas. The price to ride the Fly LINQ Zipline starts at only $30! The Fly LINQ Zipline is open Thursday – Monday from 4:00 pm – 10:00 pm. Are you ready for this sky-high experience?
Where: 3545 S Las Vegas Blvd, Las Vegas, NV 89109 | Who: (702)-777-2782
The LINQ is the latest concept in shopping, dining, and entertainment. Mixing shops, attractions, and restaurants, you'll find something for everyone. The best part is that you're already here after the FLY Zipline and the High Roller! Take a stroll and discover over 15 different shops in this outdoor mall!
Where: 3545 S Las Vegas Blvd, Las Vegas, NV 89109 | Who: (702) 332-0543
Bellagio Fountains at Night
Take a short 0.6-mile 12-minute walk over to one of the most recognizable attractions in Las Vegas, the Bellagio Fountain! This is a free attraction to mark on your Las Vegas Family Vacation for once. Stand in complete awe as you witness the beautiful choreographed fountain on the grand scale.
The Fountains of Bellagio is a daily experience in Las Vegas, every 30 minutes, from 3:00 PM to 8:00 PM Monday through Thursday and every 15 minutes from 8:00 PM to midnight. On weekends and holidays, the fountains display their magic every 30 minutes from noon to 8:00 PM and every 15 minutes from 8:00 PM to midnight.
Where: 3600 S Las Vegas Blvd, Las Vegas, NV 89109 | Who: (702) 693-7111
Bellagio Conservatory & Botanical Gardens 
After getting all the family photos in front of the Bellagio fountain, it's time to embark inside the five-star hotel. Inside the glamorous hotel, you'll find another spectacular attraction, the Bellagio Conservatory & Botanical Gardens. Embody the beauty as you walk around this stunning indoor garden!
The best part about this beautiful experience is that all 14,000 sq ft of it is completely free for you and your entire family! 
Where: 3600 S Las Vegas Blvd, Las Vegas, NV 89109 | Who: (702) 693-7111
Dinner to Wrap up the Night (At the Bellagio)
After such a long exciting day, it's time for a fabulous dinner at the Bellagio. Leave your misconceptions of buffet dining at the door – The Buffet at Bellagio is an experience like no other in Las Vegas. The Chefs bring together the freshest ingredients and best dishes from around the world, including Italian, Japanese cuisine, American cuisines, and a whole lot more! 
The pricing for the buffet is reasonable, especially for children under the age of 11!
Monday – Thursday: $41.99
Friday – Sunday: $49.99
Children 5 years of age and under eat complimentarily.
Children 6-11 years of age eat for 50% off.
Where: 3600 S Las Vegas Blvd, Las Vegas, NV 89109 
Las Vegas Family Vacation - Day 3
Here we go! The last day of your Las Vegas Family Vacation is set to be extra grand and spectacular at The Venetian Resort. The Venetian and Palazzo house more than 2.3 million square feet of meeting space, 1 million square feet of retail space, and more than 30 restaurants.
Where: 3355 S Las Vegas Blvd, Las Vegas, NV 89109 | Who: (702) 414-1000
The Grand Canal Shoppes at The Venetian is a premier destination for Las Vegas luxury shopping. Featuring over 160 signature stores with dozens of luxury brands, the Shoppes are more than a Las Vegas shopping mall; they're a style lover's dream come true. Cobblestone walkways are canopied with illuminated painted ceilings of clouds drifting by on a blue sky as if strolling the piazza in Venice. The Grand Canal travels through the center of the Shoppes for quarter-mile inviting passersby to a gondola voyage after a much-deserved day of retail therapy.
Although the Grand Canal Shoppes are completely indoor, the ambiance around the ceiling makes it look as if you're outside. As the time gets later in the day, the experience changes inside; the lights dim to mimic the change of time outside!
Where: 3355 S Las Vegas Blvd, Las Vegas, NV 89109 | Who: (702) 414-1000
Gondola rides for the whole family! Take in a Grand Canal cruise, or enjoy an indoor and outdoor Venetian experience. The singing gondolier is sure to enchant you while they pilot the boat down canal streets lined with elegant cafes and bridges from where you can see all of Venice on this unforgettable journey at The Venetian Resort! This, by far, will be one of the most memorable experiences of your Las Vegas Family Vacation!
Monday – Thursday:
$34.00 per person
Friday – Sunday:
$39.00 per person
All reservations must be made in person.
Where: 3355 S Las Vegas Blvd, Las Vegas, NV 89109 | Who: (702) 414-1000
The perfect casual lunch place at The Venetian is Moon Palace by David Chang. This place is famous for its slider sandwiches! If you're looking for tasty food that again isn't outrageously priced at The Venetian, then this is your safest bet.
Where: 3355 S Las Vegas Blvd, Las Vegas, NV 89109 | Who: (702) 607-3060
Marvels Avengers S.T.A.T.I.O.N. – OR – Mobster Museum (You Choose)
Marvels Avengers S.T.A.T.I.O.N.
Marvel's Avengers S.T.A.T.I.O.N., a brand new exhibit, features the largest collection of original costumes and props from the blockbuster film franchise, including Iron Man's iconic red-and-gold armor and Captain America's shield! Your family can participate in interactive lessons with their favorite Marvel characters or explore immersive exhibits showcasing how science helped create the world of The Avengers – all before getting up close to meet some of Earth's mightiest heroes!
Adult tickets are $30 each and $20 for Child tickets.
Where: 3300 S Las Vegas Blvd, Las Vegas, NV 89109 | Who: (702) 894-7626
If you are looking for a great family day trip in Las Vegas, look no further! The Mob Museum is the perfect destination. Located just blocks away from Fremont Street Experience, the Mob Museum has something for everyone! Kids will love learning about American history through mobster stories, while parents can enjoy reading about the rise of organized crime in America. There are also interactive exhibits that kids will love, like playing with old-fashioned slot machines and checking out vintage cars from "The Godfather."
Tickets are $29.95 per person 
Where: 300 Stewart Ave, Las Vegas, NV 89101 | Who: (702) 229-2734
AREA15 Las Vegas is a new family-friendly, immersive gaming and entertainment destination. It's just 1 mile off the world-famous Las Vegas Strip and offers over 22,000 square feet of indoor space with all your favorite games such as skee ball, air hockey, virtual reality racing simulators, arcade classics like pinball machines, and more! Area 15 also has an outdoor area where you can enjoy classic carnival games like ring toss or win prizes at the midway booths.
With a large selection of food options available on-site, including ice cream from Gelato Messina to choose from there are plenty of delicious options for everyone in your group. Definitely, a must-see experience to end your Las Vegas Family Vacation!
Where: 3215 S Rancho Dr, Las Vegas, NV 89102 | Who: (702) 846-1900
Dinner to Wrap up the Trip (at Carmine's Italian Restaurant)
From personal experience, this Italian food is the bomb! Carmine's in New York City is my favorite Italian restaurant in the city – if that doesn't tell you how good it is, then I don't know! 💁‍♀️ If you love authentic Italian food, then you'll also fall in love with Carmines. This is a great meal to end your amazing, memorable Las Vegas Family Vacation!
Where: Forum Shops At Caesars, 3500 S Las Vegas Blvd, Las Vegas, NV 89109 | Who: (702) 473-9700
Depart a Grand Las Vegas Family Vacation 
Plan out the days | Interactive Map
To make your life a lot easier, here is an interactive map so you can track your itinerary day by day! The map goes along in sequence with the itinerary above… so make sure you read it FIRST. All hail a mighty Las Vegas Family Vacation!! Bookmark this page so you know where you're going.
A Las Vegas Family Vacation -Is the BEST Vacation
Las Vegas is the perfect destination if you've been trying to think of a place for your family vacation. With so much more than just gambling and partying in store, Las Vegas has something for everyone! So what are you waiting for? It's time to book those tickets today before they sell out or prices start shooting up because it's the prime season again! Don't forget to share this post if you found it helpful on your social media platforms – or send it to your family better yet! We hope that this itinerary helps guide you through all of the best attractions and activities to enjoy with your loved ones during your next trip to Las Vegas.
*All Lyft ride prices were calculated for 4 people in real-time*