Let's face it – you're here for just a few short days and you really want to experience the best Las Vegas attractions the city has to offer. Want to know what to see in Las Vegas? With so much to do in such little time, we came up 11 must-see unique Vegas attractions both on and off the Strip.
SKY HIGH LAS VEGAS ATTRACTIONS
1. HIGH ROLLER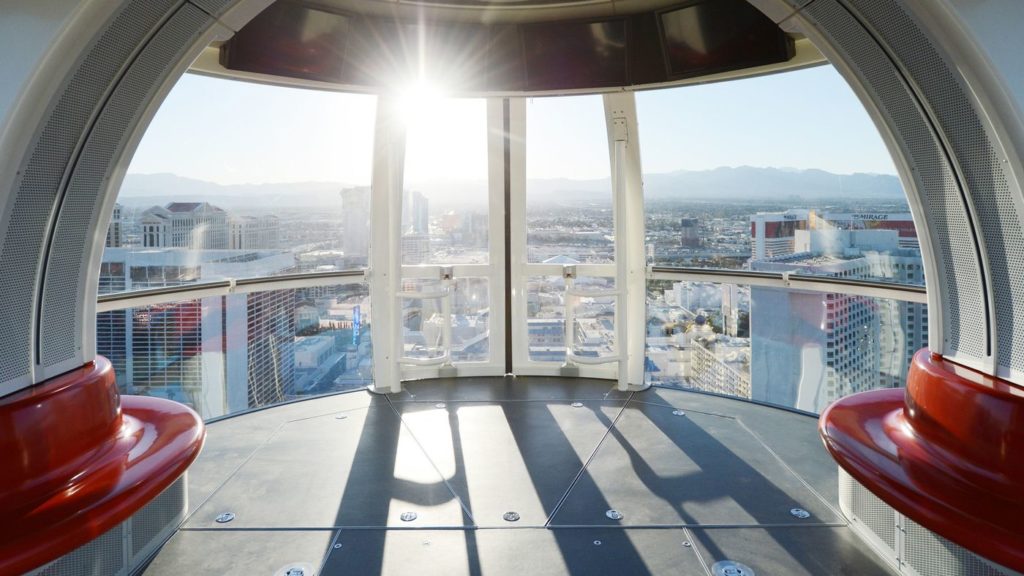 Up, up and away! The High Roller takes your typical wheel experience up a notch. Or two. Or 550. Where else in the world can you ride a 550-foot-tall wheel, witness amazing aerial views of the Las Vegas Strip, and if you wanted to, host a private party in the sky? Another perk: once this half-hour ride is over, you're only steps away from the most exciting spots on the Strip. Experience everything from live concerts at Brooklyn Bowl and to beer pong and gaming at O'Sheas.
2. SUNDANCE HELICOPTER – SUNSET RIDE

Soar to new heights on a Sundance Helicopter ride over the Las Vegas Strip. The flight is about 12 minutes and you'll get a real bird's eye-view of the city. Start with a limousine ride from your hotel to the Sundance Helicopter headquarters where you'll be greeted with a flute of champagne. If you have more time during your trip, take advantage of Sundance's enhanced journeys, including a helicopter trip to the world-famous Grand Canyon. On every ride, your pilot points out all the major landmarks so you get the most out of your sky-high experience.
3. RIO'S VOODOO ZIPLINE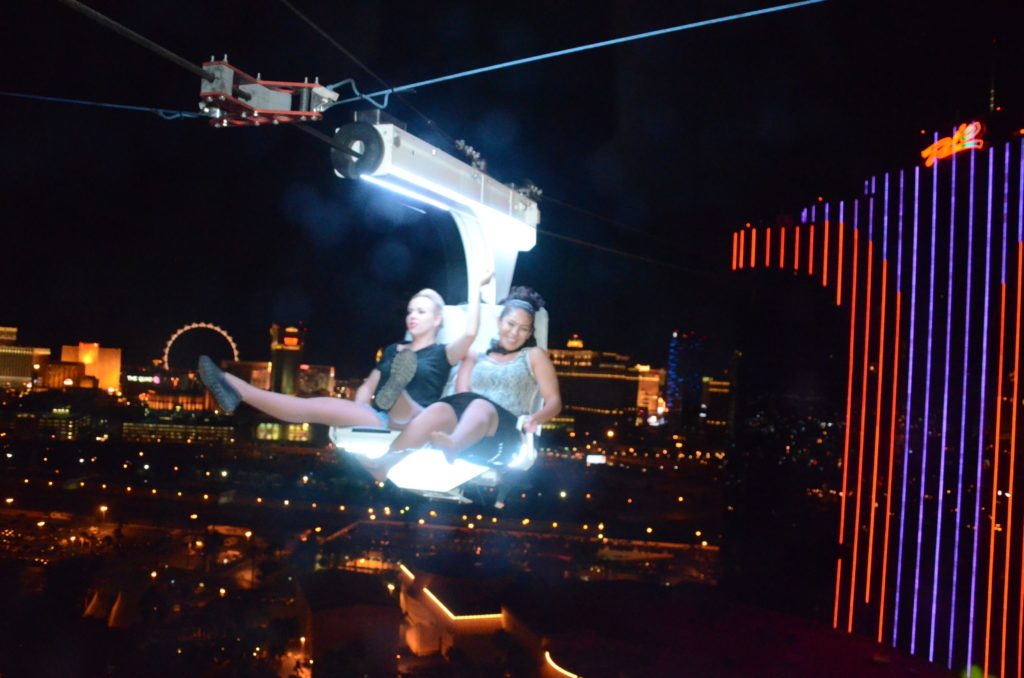 Zippity, do dah! Voodoo Zipline is popular with both locals and tourists alike. After all, it's not every day you get to zoom 400-plus feet above the ground between two hotel towers. Unlike a traditional zip line, these seats are designed for two. So bring your bestie, date or someone you want to scare for fun. It's all worth it in the end – you'll catch a great view of the city while experiencing the thrill of your life.
4. SKY COMBAT ACE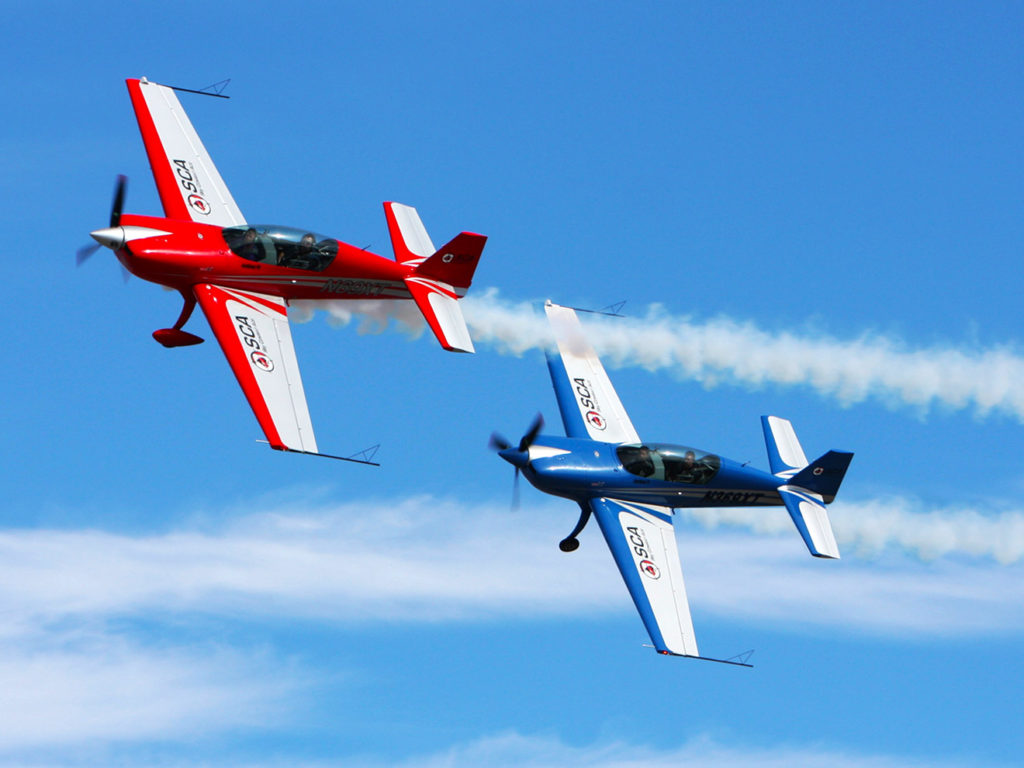 Ride into the danger zone and test out your skills on Sky Combat Ace's daring plane ride. Soar through the sky as you control the plane doing loops, rolls and jack hammers. This blogger had the amazing chance to do it a few years ago and loved every second. A trained fighter pilot accompanies you in the plane, which is a definite boost for your confidence. You'll fly as high as 1,500 feet at speeds reaching 220 miles an hour. You can also bring a friend for the ultimate dog-fighting battle in the sky.
5. EIFFEL TOWER EXPERIENCETIONS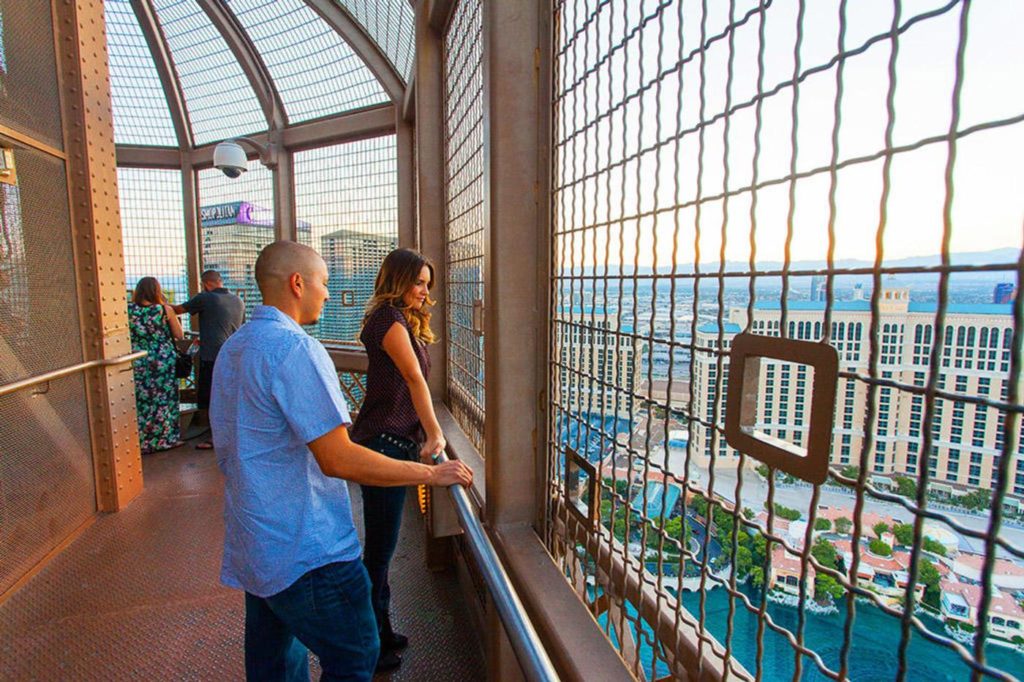 Ohh, la la! At the Eiffel Tower Experience, get a 360-degree view of the city and feel the spirit of France, right in the middle of the desert. You'll get a phenomenal view of the city, from the gorgeous mountain ranges to the glittering lights of the Strip. The pink and orange sky will make you swoon as much as Paris itself. While you're here, dine at the Eiffel Tower restaurant, named one of the most romantic views by OpenTable. France, right in the center of the Strip? We say oui, oui.
6. VEGAS INDOOR SKYDIVING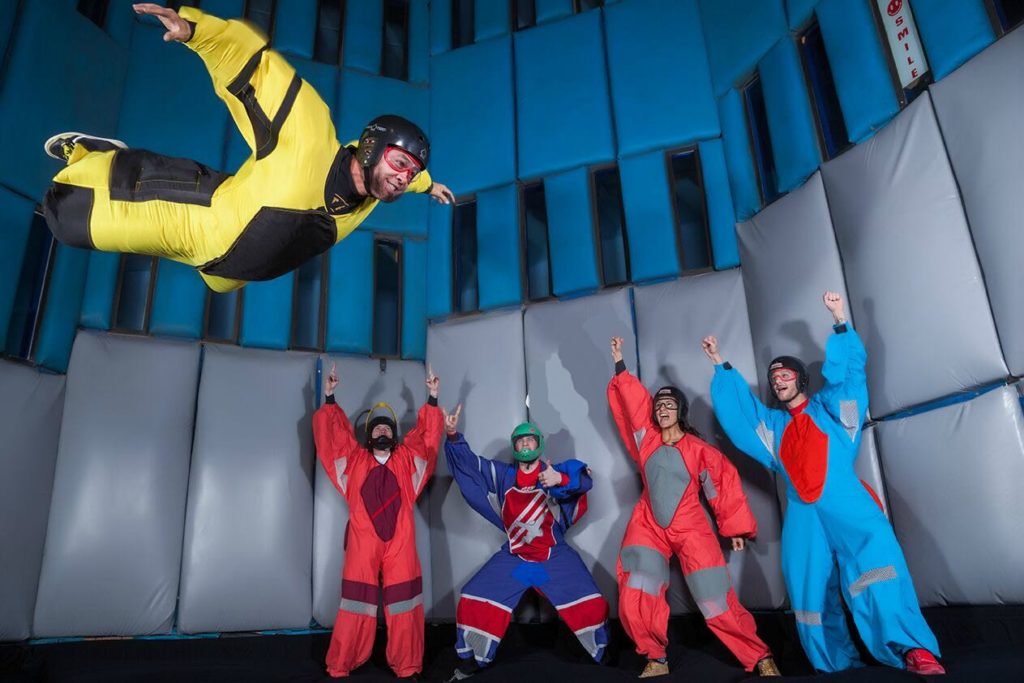 This isn't your traditional skydiving, but when has Vegas ever been traditional about anything? Even though you're in a padded room instead of a plane, Vegas Indoor Skydiving offers the same feel. You'll jump over a netted wind tunnel with a DC-3 propeller, generating winds up to 120 miles per hour. This is what causes the floating simulation. And if you're like a lot of folks who don't plan on jumping out of a plane anytime soon, this Las Vegas attraction has the same free fall feeling.
7. THE WILDLIFE HABITAT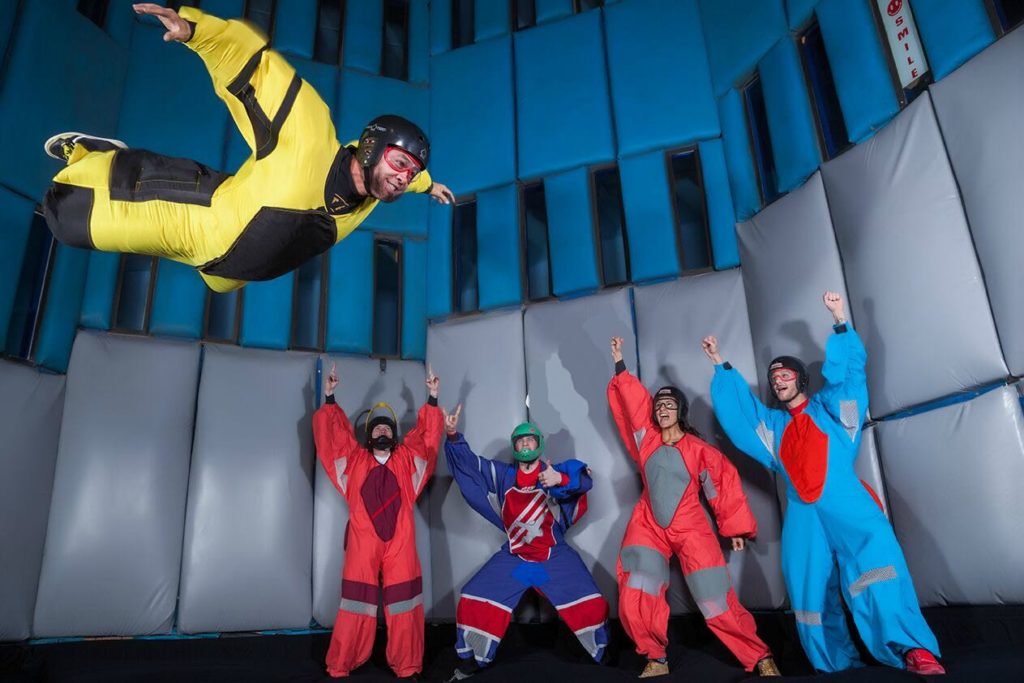 Party animals abound at just about every Las Vegas hotel, but at Flamingo Las Vegas' Wildlife Habitat, real animals go wild among waterfalls, streams and lush foliage. This family-friendly tropical paradise is home to all sorts of exotic creatures, including ringed teal ducks, brown pelicans, koi fish, turtles, and of course, a flock of Chilean flamingos. Every spot in the Flamingo's serene Wildlife Habitat is picture-worthy, and best of all? It's all free and open to the public every day.
8. EXOTICS RACING

For one day, you can be the speed racer you've always dreamed to be. Head to the Las Vegas Motor Speedway and check out Exotics Racing. Choose from a Ferrari, Lamborghini, Porche or Aston Martin and Mercedes and take it lightning speeds! One of the professional driving instructors will guide on your laps, so you'll be safe and make the most of your drive. A professional coach will be with you so you can have the maximum experience. (Photo courtesy of Exotics Racing.)
9. JUBILEE BACKSTAGE TOUR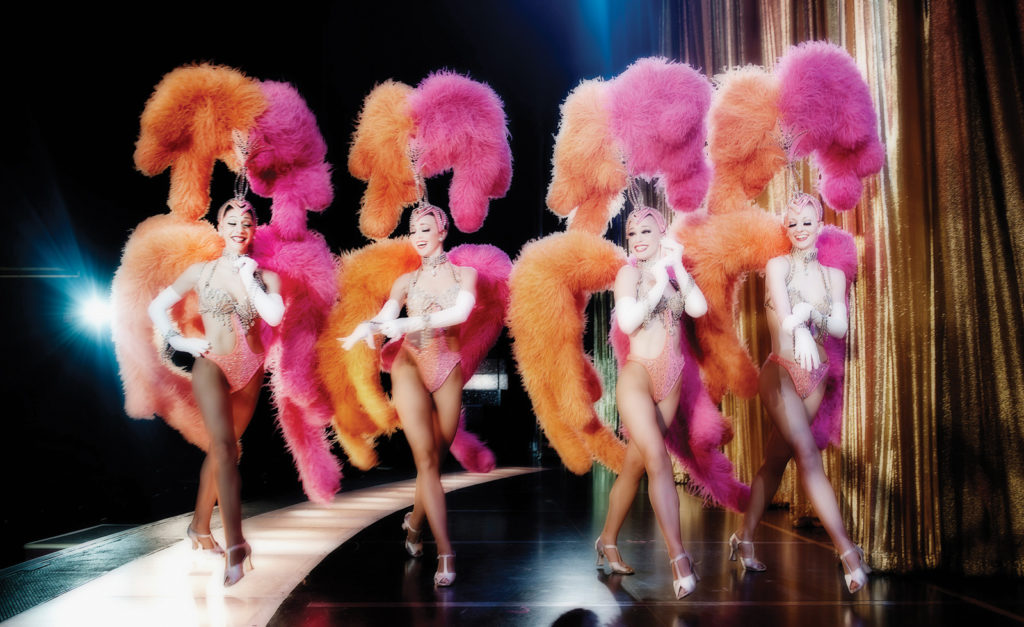 Take a trip to Jubilee Backstage Pass Tour and go behind the feathers and sequins and check out what makes Las Vegas' longest showgirl revue such a hit. These gals make everything look effortless on stage, but the real beauty is how they look graceful doing it. Imagine carrying a 30-plus pound headdress on your head. These are just one of the fascinating facts you'll discover on this behind-the-scenes tour. When you see what really goes behind all the glamour and glitz, you'll leave with a brand new appreciation for Jubilee.
10. PHOTO & GO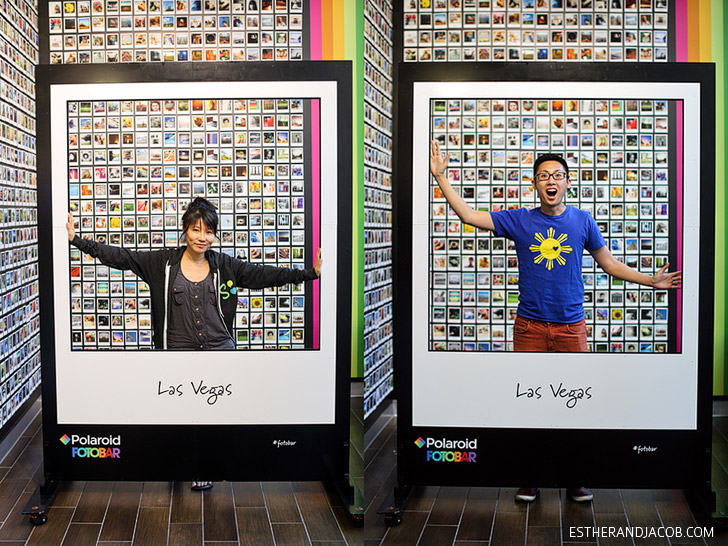 These days, everyone's photos live in their phones, but Photo & Go at The LINQ Promenade let's you print and personalize pictures into keepsakes. Founded by the same guys who started Polaroid Fotobar, choose any photos and get them printed on tons of different materials such as flip frames, cell phone cases and canvas art wraps.
11. NEON BONEYARD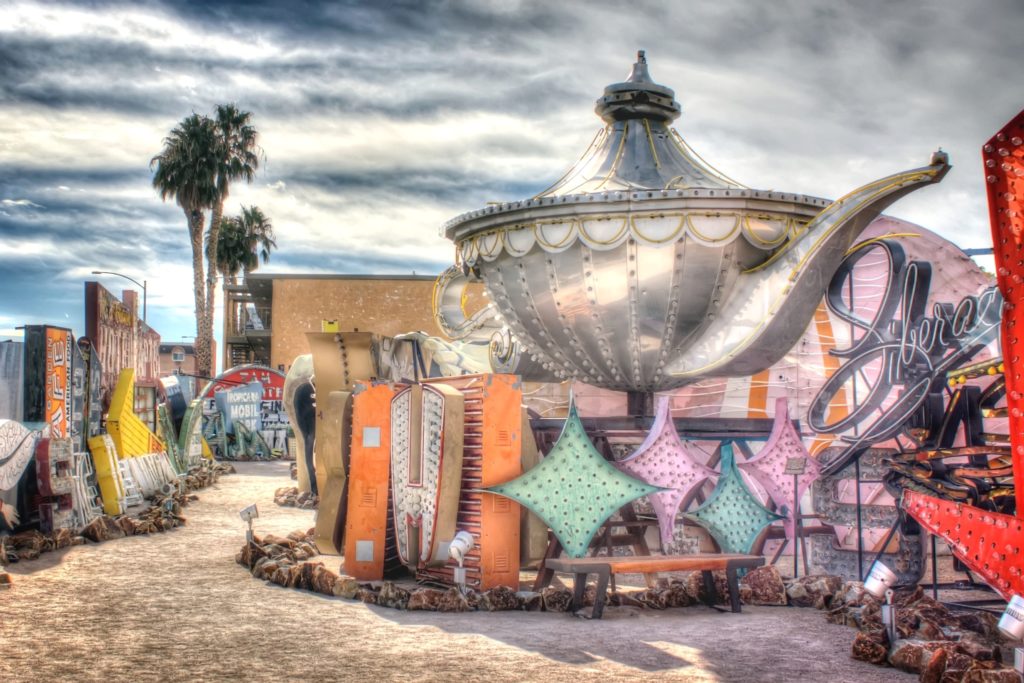 We all have our hoarding issues (darn you, spring cleaning!), but Downtown's 2.5-acre Neon Boneyard has a great excuse. You'll be glad someone held on to all this Vegas history. Take a stroll through the Neon Boneyard and you'll stumble upon the most unique signage ever – vintage Vegas at its best. Some of these signs are as tall as a house! The boneyard has 150-plus restored signs and the tour is about 45 minutes long. Wear comfy shoes and make sure your camera phone is fully charged to get the most out of this famed outdoor museum.