Las Vegas has become one of the top destinations for foodies. But you don't have to break the bank to fill your tummy. Check out over a dozen places you can get cheap meals in Las Vegas for any meal of the day, including snacks – because who doesn't love snacks!
Amorino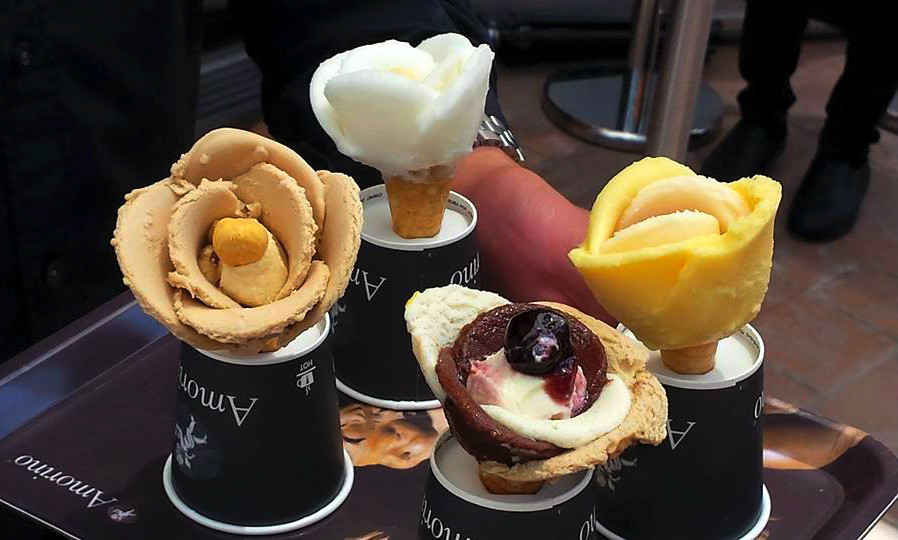 There isn't anything ordinary about Las Vegas, and the gelato is no exception! Cool off with a flower-shaped cone of tasty gelato or sorbet at Amorino at The LINQ Promenade.
The flower cone featured above is a mix of basil lime and passionfruit sorbet. It was the perfect combo to cool down on an already hot day (it was about 10am and already 100° F out!).
Amorino also serves yummy frappes and other frozen treats if that's more your thing. The best part? Amorino is open from 7am to 1am during the week and 7am to 2am on Fridays and Saturdays, so you can get a cool-you-down treat at almost any time of the day.
Amorino also has a location at the Las Vegas North Premium Outlets. The outlet location is open 9am to 9pm Monday through Saturday, and 9am to 8pm on Sunday.
Brioche by Guy Savoy
For a quick and flavorful meal on the go, pop over to Brioche by Guy Savoy at Caesars Palace.
At Brioche, you can get baguette sandwiches, coffee, wine, and pastries.
The star of the show at Brioche, though, are the buttery delicious brioche rolls, which come in sweet and savory flavors, such as peanut butter and jelly or bacon, cheese & jalapeño.
Bruxie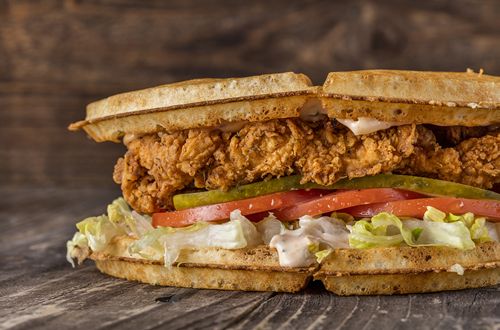 One of my favorite Las Vegas restaurants on the southern end of the Vegas strip is Bruxie. At Bruxie you can get some of the best fried chicken and waffles you'll probably ever have.
The breading on the fried chicken is nice and crunchy (never soggy) and the waffles come in several flavors. And of course, they give you honey to dip the chicken in, which is the only way to eat fried chicken!
On my most recent trip to Vegas, I added a side of buffalo mac n cheese which was ok… but then again I'm not a big buffalo sauce fan, so it's probably delish for those of you that are.
While Bruxie isn't necessarily the cheapest fast food spot on the strip, it is one of the fast food strips that will make you forget you're actually eating fast food.
The Buffet at Luxor
The Buffet at Luxor is one of the cheapest buffets on the Las Vegas strip.
To tell you the truth, I have a love-hate relationship with buffets. I feel like you're bound to find food that's meh, but there's also always a chance you'll have one of the best dishes of your trip, too. Nonetheless, if you're looking to fill up for cheap, the buffet at Luxor is the place!
In addition to being cheap and yummy, the Luxor buffet offers an option to purchase a pass. This allows you to fill up at any meal time for a set price during your trip. If you're not in Vegas to sample the restaurants, and staying at or near the Luxor, this might end up being a good option to fill up for less.
Canter's Deli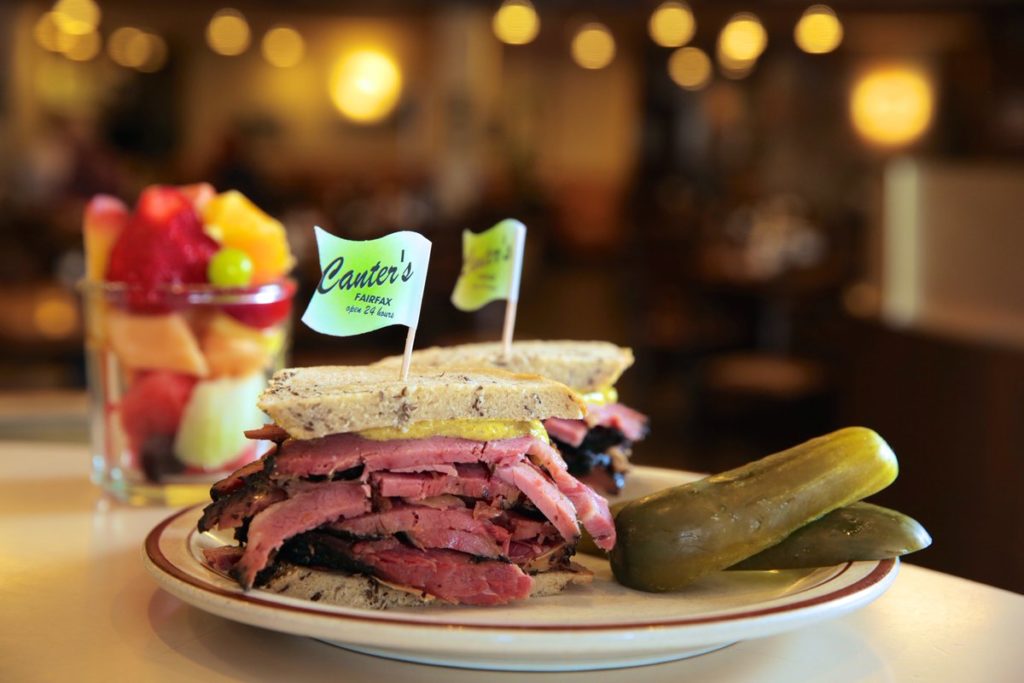 All the way at the end of the LINQ Promenade is Canter's Deli.
Canter's Deli is my favorite of the several Jewish delicatessen you can find on the Vegas strip. Not only is their food freakin' delicious, it's hearty, too.
A half sandwich, such as the pastrami with swiss seen above, comes with your choice of a side (mac salad, potato salad, or cole slaw), plus a full pickle (not just a spear!) and a pepperocini, all for around $10.
Canter's Deli also has New York style bagels if you happen to wander down for breakfast or a snack.
Chayo Mexican Kitchen + Tequila Bar
Happy Hour specials are a great way to get yummy cheap eats and drink specials in Vegas. One of my favorite Happy Hour specials in Vegas is at Chayo Mexican Kitchen + Tequila Bar.
Pop over to Chayo's Insta feed and tell me you aren't drooling all over your phone 3 posts in. Like I said, Chayo's food is YUM.
Currently Chayo's Happy Hour is daily from 2-6pm, with 2 for $5 tacos, $5 wings or mini nacho plate, $2 Dos Equis or Azulitas beer, and $5 margaritas.
Aside from the delicious Mexican food, Chayo has an awesome rooftop overlooking the LINQ promenade AND a mechanical rooster. Yes, rooster!!
Eggslut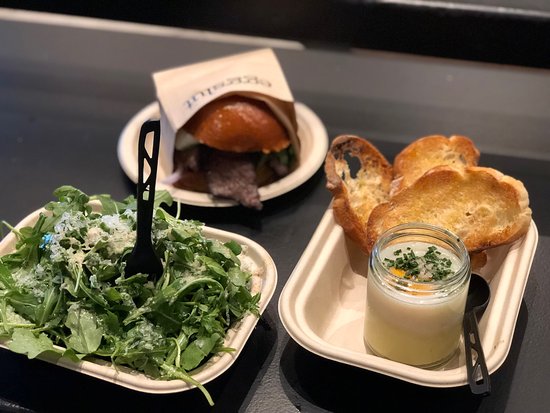 For a quick and filling breakfast, check out Eggslut at The Cosmopolitan. Seriously, Eggslut has the BEST egg sandwiches and is one of my favorite quick and cheap meals in Las Vegas.
Beware – the line at Eggslut can be a bit insane, depending on when you go. I foolishly thought I'd be in and out on a Sunday at around 11am. NOPE. The line wrapped around into a nearby hallway.
Thankfully, Eggslut has eggs-cellent hours, so if you time it right, you can get your egg sandwich fix without much of a wait. Eggslut is open Monday through Friday from 7am to 7pm and Saturday and Sunday, midnight to 7pm.
Now who's up for an Eggslut stop after dancing the night away at Marquee?
Gonzalez y Gonzalez
Gonzalez y Gonzalez inside the New York-New York Hotel has a typical Mexican-American line up full of tacos, quesadillas, ceviche, and so on.
My favorite dish at Gonzalez y Gonzalez is the shrimp quesadilla – which I noticed wasn't on their menu board outside the restaurant on my last visit. I didn't dine there on my last trip, but if that sounds up your alley and don't see it on the menu, ask if they can still make it. It really is that delicious!
The prices are pretty good too, so if you're craving Mexican and are on the South end of the strip, I recommend checking it out.
Gordon Ramsay Fish & Chips
Yes, that's right! You can get food by Gordon Ramsay for relatively cheap at Gordon Ramsay Fish & Chips at the LINQ Promenade right off of Las Vegas Blvd.
A classic fish & chips plate will cost you $15, including a drink. I recommend the peach ginger lemonade – it's the perfect combo of tart and spicy.
This place as THE BEST fries on the strip, so much so that I sometimes will go just to get a bucket of fries (and a ginger peach lemonade). They are perfectly crisp on the outside, plump on the inside, and salted just right. Plus you get 2 sauces – I like the mango curry and Dijon mayo. YUM!
A bucket of fries will set you back $4.99 – pretty good for a savory snack!
Haute Doggery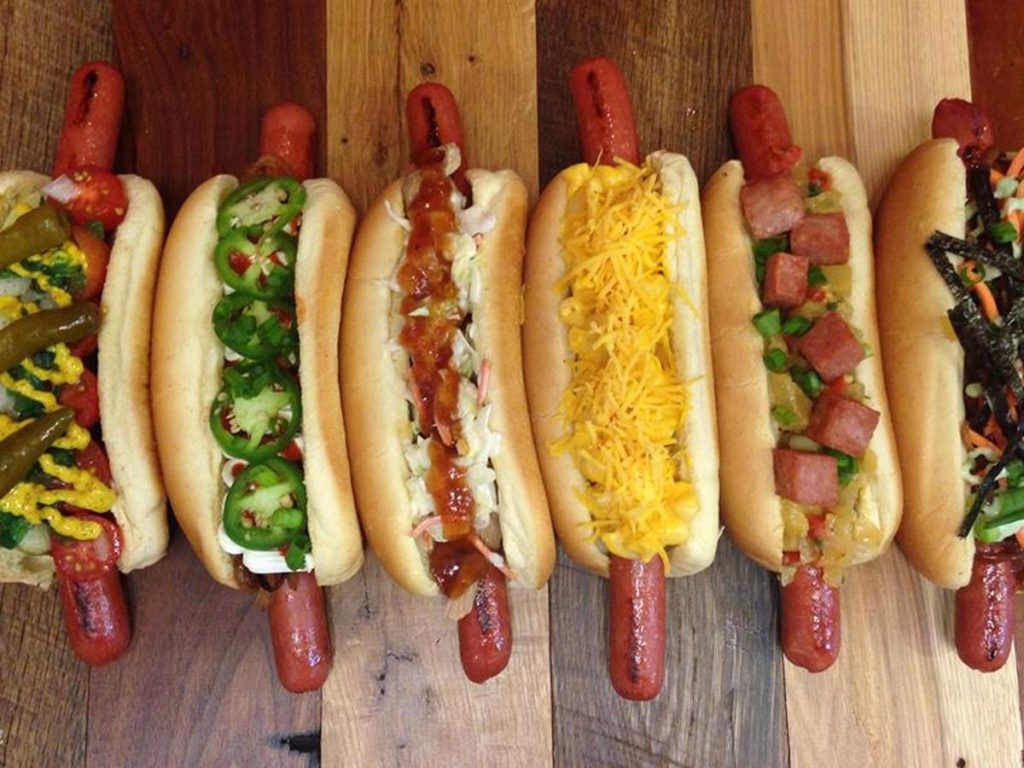 For a quick and cheap meal in Vegas, head over to Haute Doggery at the LINQ Promenade. If the name isn't obvious, the specialty at Haute Doggery is hot dogs!
Whether you like your hot dogs steamed, grilled, deep-fried, dragged through the garden, topped with chili and cheese or some other combo, Haute Doggery has a dog for you. There's even a veggie dog!
Pair your dog with some poutine, onion rings, or classic fries, and you're filled up.
In-N-Out Burger
Have you noticed a pattern yet? Yep, it's another cheap meal in Vegas at the LINQ Promenade. I love this spot on the Vegas strip, mainly for its tasty and affordable food. Plus The LINQ hotel is pretty fun, too.
OK, onto the real point of this section: In-N-Out Burger!
Fast food cult favorite, In-N-Out Burger, has finally landed on the Strip, thanks to The LINQ's promenade! Now you can get your double double animal style and a thick shake without needing to send for a Lyft to get there.
Of course, you could hit up a generic McDonald's or lame food court elsewhere for a quick burger, but it's not going to be fresh and, frankly, not nearly as tasty as In-N-Out.
JJ Boulangerie
For a simple but flavorful meal, pop over to JJ Boulangerie in the Paris Las Vegas hotel.
Think buttery, flaky croissants and a café au lait for breakfast or a hearty sandwich on a baguette for lunch.
The line will likely be long, but it moves quickly, plus most of their meals are easy to take on the go, so you don't have to wait for a table or counter space to chow down.
La Creperie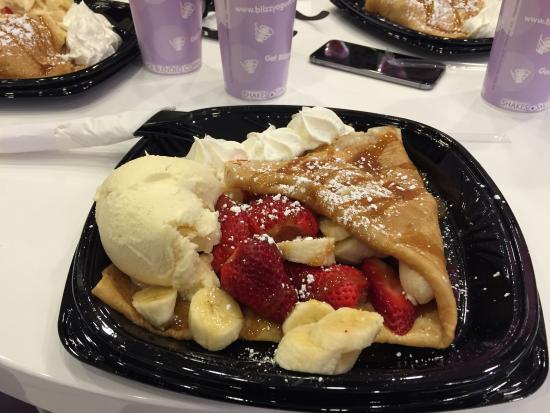 Nearby JJ Boulangerie in the Paris Las Vegas hotel is another great place for a quick and cheap meal, La Creperie.
The savory breakfast crêpe is delish (I mean, let's be real – anything with avocado or béchamel sauce will be yummy), as are the Nutella and fresh berry crepes.
Milk Bar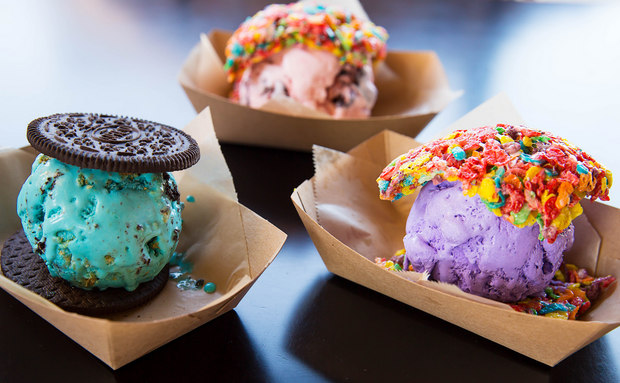 For a sweet snack, pop on over to Milk Bar at the swanky Cosmopolitan hotel. Milk Bar is known for its tasty cookies and instagrammable cereal milk flavored soft serve ice cream. They also serve lattes, milkshakes, and other sweet treats guaranteed to satisfy your sugar craving.
Pin-Up Pizza
Slam a slice of New York style pizza from Pin-Up Pizza at the Planet Hollywood hotel. The slices here are gigantic – practically bigger than your head!
Pin-Up Pizza is perfect for a quick lunch, dinner, or post-partying snack for just a few bucks. The Planet Hollywood location is open from 11am to 4am daily.
Shake Shack
Shake Shack opened its first location in the western US at the New York-New York hotel in 2014.
If you're staying at the Southern end of the strip and don't want to hoof it down to the LINQ Promenade for In-N-Out, Shake Shack won't disappoint.
To be honest, their fries aren't my favorite, so I'll typically get a double pattie and lemonade or shake, depending on how hungry I am, and it's more than enough for a quick meal.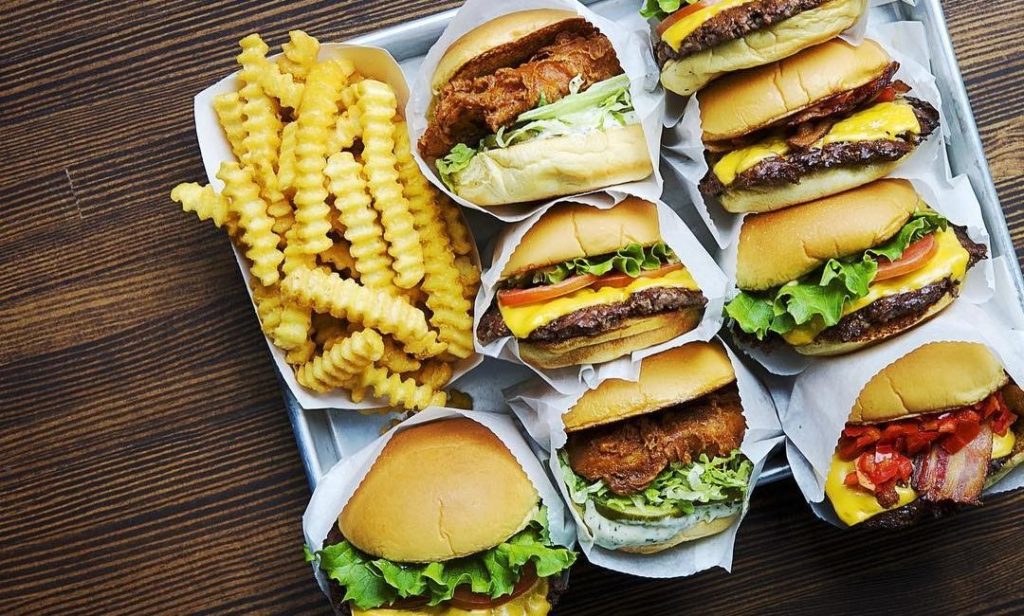 Sprinkles Cupcakes
Sometimes your sweet tooth wins out when you need a snack, especially when there are cupcakes involved! Check out Sprinkles Cupcakes at the LINQ Promenade for a sweet snack. My favorite is the Cuban Coffee cupcake, but it's not available every day. No worries – the rest of the flavors are delicious, too!
If you're craving sweets after a night out at a club or don't want to wait in line, check out the first ever Sprinkles cupcake ATM, located between their LINQ Promenade shop and In-N-Out Burger, where you can buy a cupcake at any time of the day.