1.

 Golden Steer Steakhouse

08 W Sahara Ave
Las Vegas, NV 89102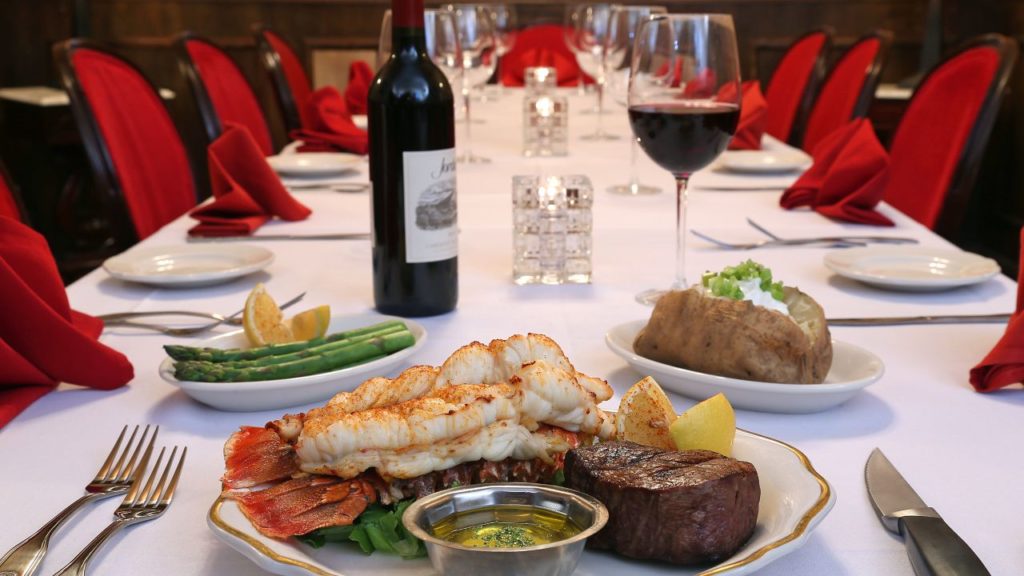 Old school Vegas comes back to life at the Golden Steer, open since 1958. Booths here come with plaques remembering the stars of yesteryear who dined at the steakhouse. Mobster Tony "The Ant" Spilatro, actress Natalie Wood, singer Nat "King" Cole, bases player Joe DiMaggio, Elvis Presley and race car driver Mario Andretti along with the Rat Pack stars Frank Sinatra, boxer Muhammed Ali all dined here. Table-side carts dish out Caesars salads, while anything with red meat is a must-order.
2.

 Peppermill and Fireside Lounge
2985 S Las Vegas Blvd
Las Vegas, NV 89109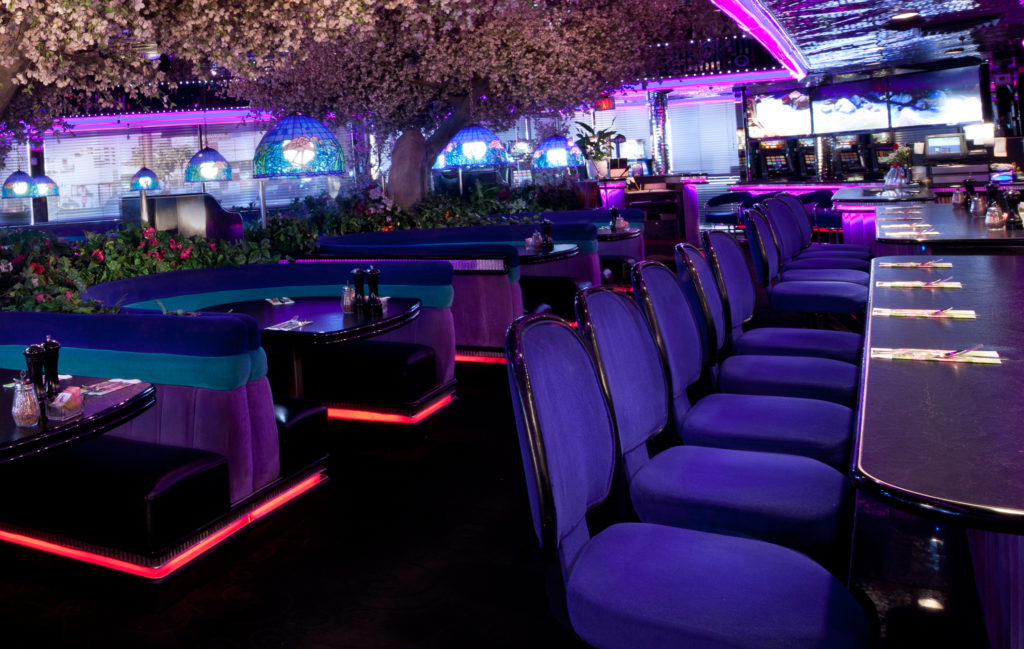 Visiting the 24-hour Peppermill is a rite of passage for any Las Vegas visitor. Gaudy neon, trees draped over the booths, a counter for single diners, green and red sugar, and massive plates of diner fare are all worthy reasons to visit, especially late at night. Customers should have at least one drink at the neighboring Fireside Lounge at the fire pit to complete that memory.
3327 S Las Vegas Blvd
Las Vegas, NV 89109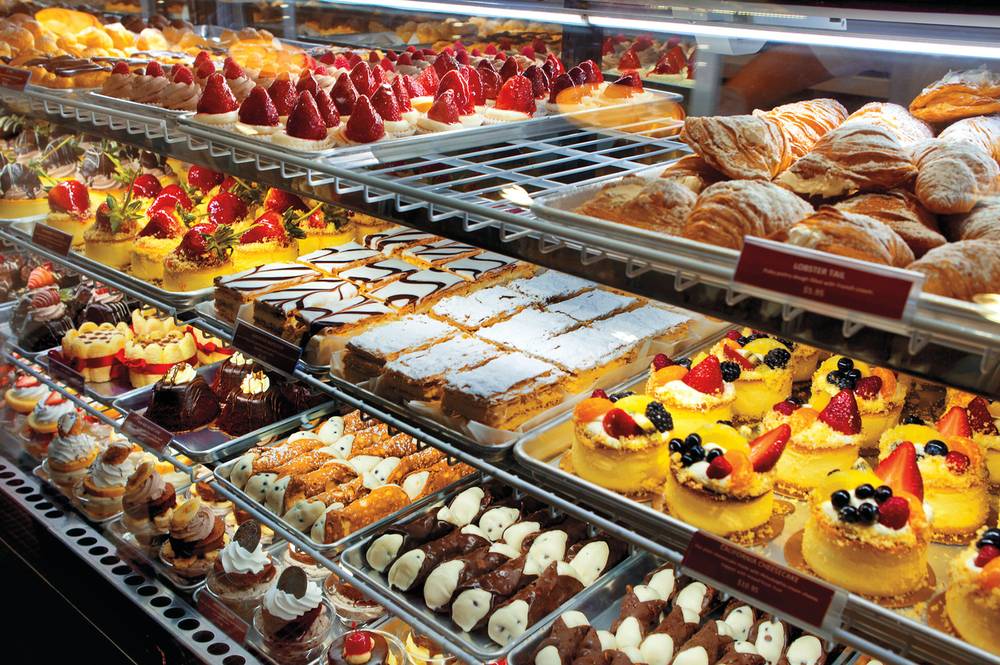 Judging by the lines queued up outside Cake Boss Buddy Valastro's Carlo's Bakery, fans want a taste of New Jersey pastries to take home. The lobster tail is a best bet, but don't count on seeing Valastro in the shop at the Venetian.
3355 S Las Vegas Blvd
Las Vegas, NV 89109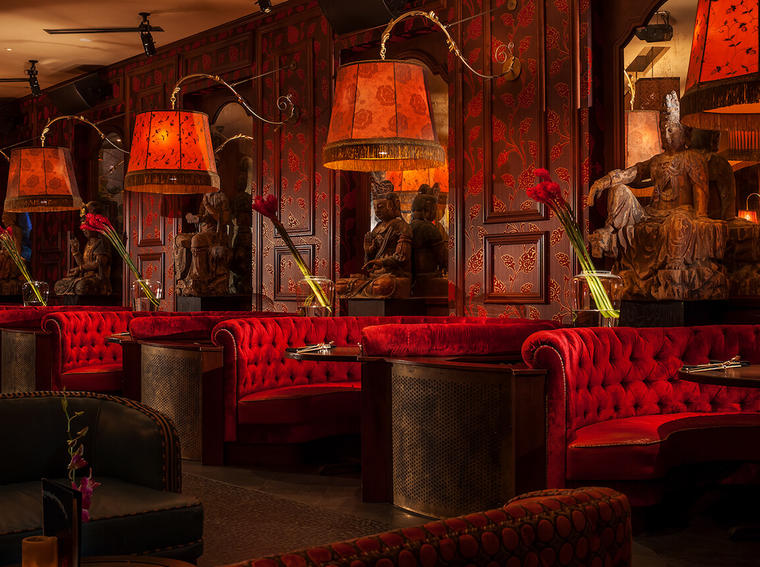 Pan-Asian food makes the menu, but the possibility of spotting a celebrity walking past that giant Buddha floating above a pond Japanese Koi in the middle of the dining room are perhaps the highest here at this nightclub and restaurant at the Venetian.
5.

 Guy Fieri's Vegas Kitchen & Bar
3535 S Las Vegas Blvd
Las Vegas, NV 89109
Anyone who loves food probably read New York Times food critic Pete Wells' epic take down of Guy Fieri's Times Square location in New York City. All the more reason to see the insane dishes on the menu at his Las Vegas space at The Linq. Righteous Rojo Rings? Check. Vegas Fries? Of course. The Mayor of Flavortown Burger? Absolutely. A Pic-a-Nik Sandwich? Duh.
6.

 Bacchanal Buffet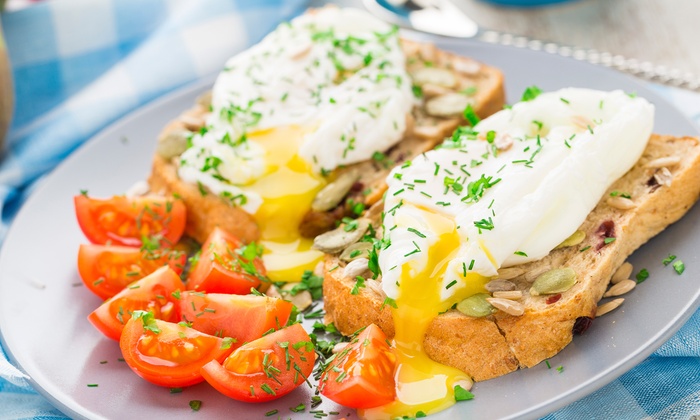 Inevitably, everyone wants to eat at a buffet, if only for the insanity of shoving unlimited food on a plate and in your stomach as possible. The biggest sits at Caesars Palace with nine live-action show kitchens spanning sushi and sashimi, Mexican, pizza, barbecue, and a center island dessert bar and more than 500 dishes served up daily. Dishes change with the seasons, plus the buffet features at least 15 daily specials. Wear loose-fitting attire.
3595 S Las Vegas Blvd
Las Vegas, NV 89109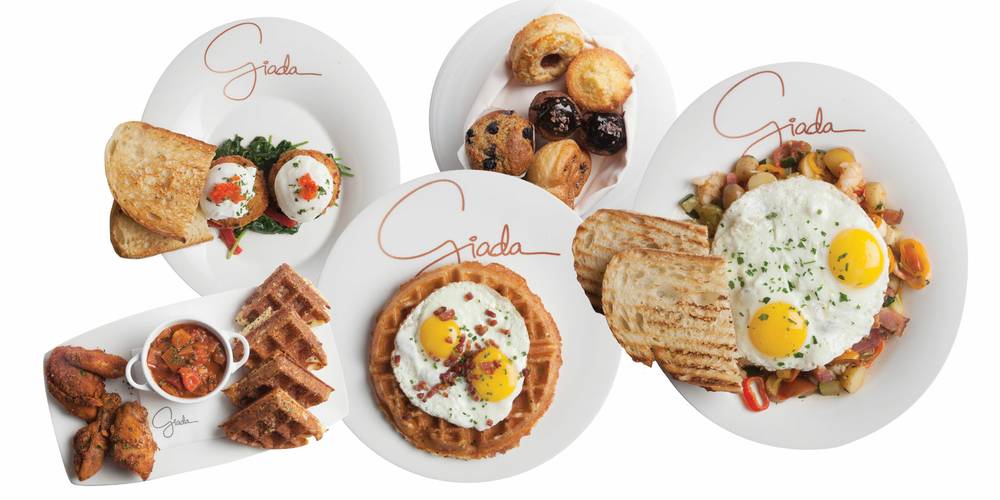 Giada De Laurentiis has her only restaurant in the world (for now) in Las Vegas. Odds are high that the Food Network star will be in the kitchen and walking through the dining room to meet and greet diners eating her California-inspired Italian food at The Cromwell.
3655 S Las Vegas Blvd
Las Vegas, NV 89109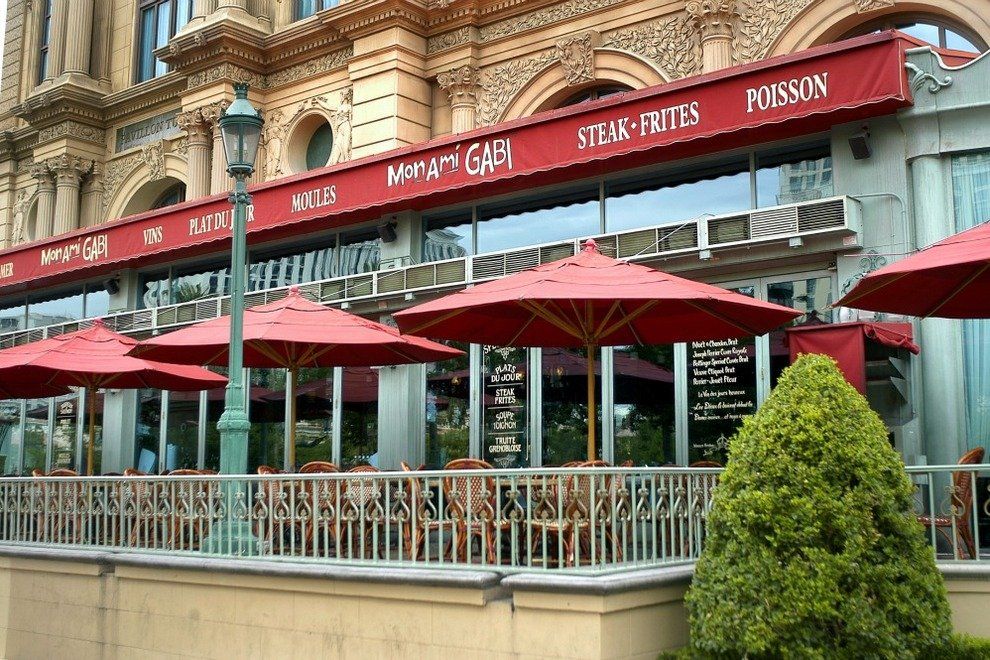 Queue up early to grab a seat on the patio of Mon Ami Gabi at the base of the faux Eiffel Tower at Paris Las Vegas. Breakfast, lunch and dinner make the menu here at this French bistro, but it's the people watching and view of the Fountains at Bellagio that create the memories.
9.

 Michael's Gourmet Room
9777 S Las Vegas Blvd
Las Vegas, NV 89183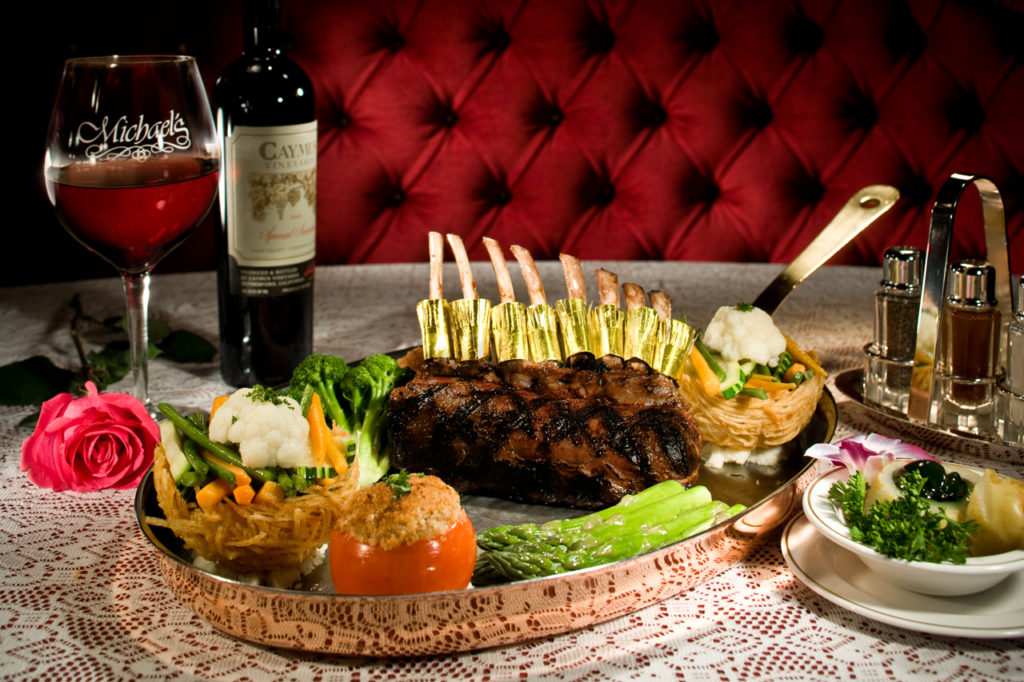 Gourmet rooms used to be all the rage in Las Vegas with their fancy menus and lavish rooms. Now Michael's at the South Point is the only one that remains. This jewel box of a room deck out in red velvet features dashing servers decked out in tuxedos often making dishes table-side. Make it a romantic night with the chateaubriand for two and then order dessert from the pastry cart of fantasies.
10.

 Gordon Ramsay Hell's Kitchen
3570 S Las Vegas Blvd
Las Vegas, NV 89109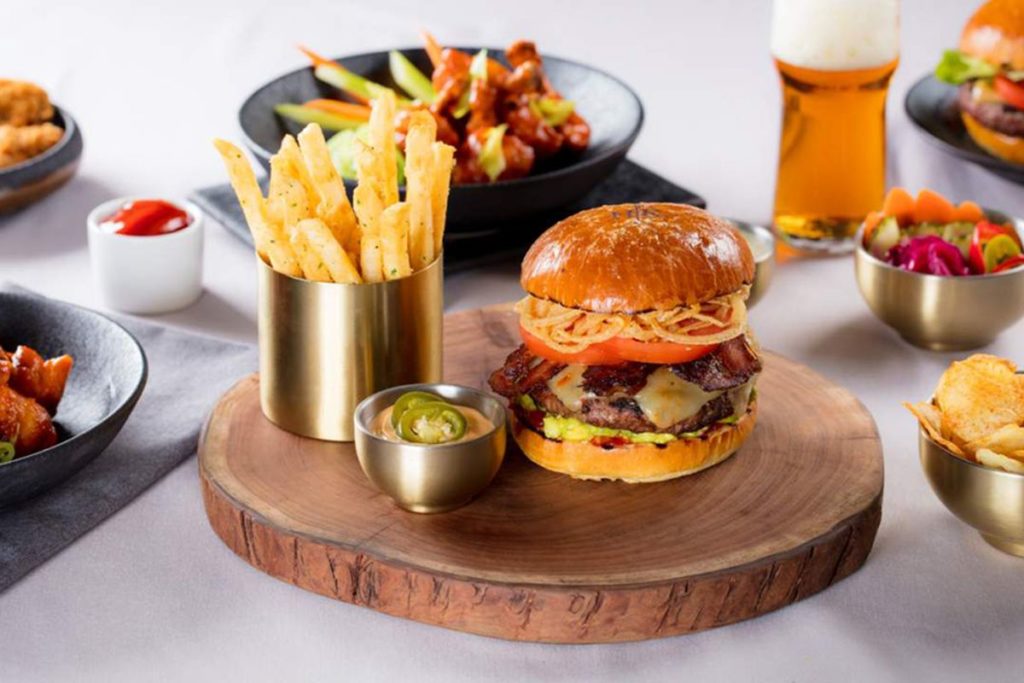 Reservations are tough to come by at Gordon Ramsay's fourth restaurant in Las Vegas at Caesars Palace. The restaurant pays tribute to Ramsay's Fox Network Hell's Kitchen TV show with 8,000 square feet of themed space sporting an interior bar, two dining rooms, a showcase kitchen, and retail space. His famous beef Wellington, a shellfish tower, sticky toffee pudding, and appropriately, a Caesar salad make the menu.